DEWALT DWHT70263M Hex Tool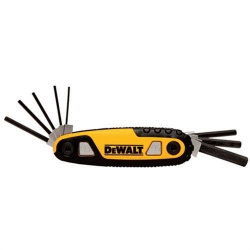 What I like about DeWalt tools is that this manufacturer knows that there are not only the USA on the planet, with their inches, but also other countries that use the human, that is, the metric system of sizes, so, practically, you can always find keys for both systems at DEWALT.
For a long time I wanted to myself such a multitool, in which a large number of HEX keys would be rigidly fixed, because, according to my personal practice, sets in which the key can be taken out separately, after a very short time, turn out to be incomplete , another set is bought and again https://jiji.ng/feeds-supplements-seeds/sage the most popular keys disappear somewhere. As a result, there are several sets with the same, rarely used keys.
Packaging:
Appearance:
Comes with 8 keys.
5 on one side: 1.5mm, 2mm, 2.5mm, 3mm, 4mm – the size is printed on the case:
3 on the other: 5mm, 6mm, 8mm – the size is stamped on the clamps:
The load-bearing frame is made of metal, on which plastic and rubber linings are fixed on the outside:
I note that the larger the key in the "holder" in size, the longer it is, and on the side where there are 5 keys, they go along the ladder, that is, each subsequent one "lies" a little higher than the previous one, so it's more convenient to open the right one.
The keys themselves are bent "loops" wrapped around the pin:
Dimensions:
Weight:
In hand :
To open a key, you need to press one of the two buttons corresponding to each side:
Keys can be locked in three positions: 90°,135° , 180°
They are fixed at the desired angle due to the grooves on the metal elements that compress each key and rotate with it around the pin:
All keys can be opened simultaneously and fixed at different angles (not necessary, but cool):
Key lengths:
The tool is convenient to use precisely because for the ability to set different angles of the key, it lies well in the hand, although the thickness of the entire body is quite large, you can't crawl into every bottleneck:
Such is another useful tool from DEWALT 🙂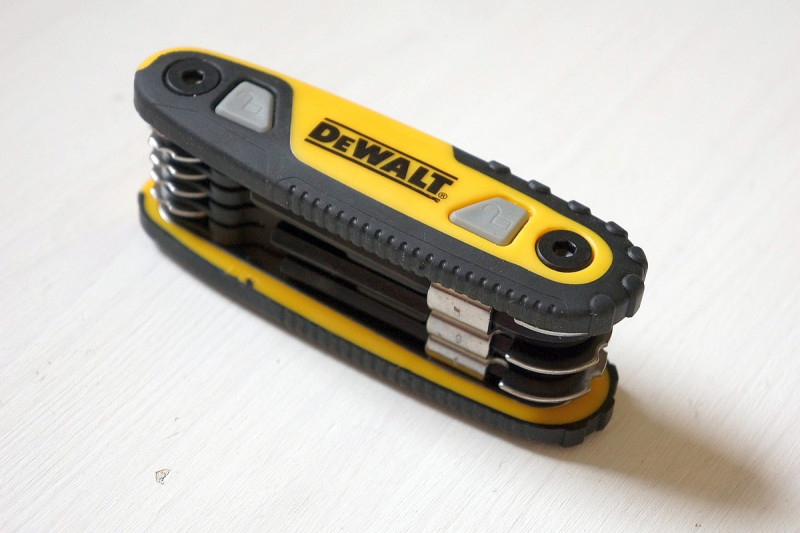 And what about without female fans 🙂